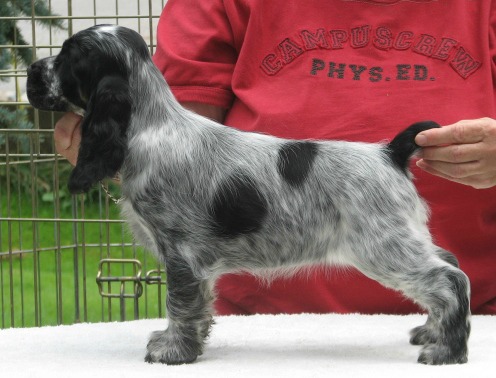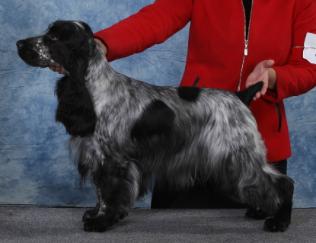 Ch. Proclaim TANgled Up In Blue (Tesla)
Am/Can/Eng.Sh.Ch. Bitcon Let's Dance (Sam) x Ch. Haveago's Stardust Trilogy (Trillian)
DOB: 06/02/2010
Optigen tested for PRCD - Carrier and FN - Clear, Baer - Normal, Patellaes - Bilaterally Normal
Link to the Orthopedic Foundation website. The OFA stores all submitted and verified health test results. All of our dogs and their health testing can be found under their registered names.

Advanced Search | Orthopedic Foundation for Animals | Columbia, MO (ofa.org)

Tesla was our pick girl from our first litter! She is a beautifully constructed girl and is still learning the ropes in the show ring. Her puppy career was wonderful with multiple Best Puppy in Groups and a Best Puppy in Show. Tesla will take some time off to grow up before coming back out as a special!
Pedigree for Ch. Proclaim's TANgled Up in Blue
Blue Roan
Sire
Am, Can CH, SH CH
Bitcon Let's Dance(UK)/
Blue Roan
Sire
Wiljana Ragamuffin(UK)/Blue Roan
Sire
Sh.Ch.Palacecraig Go West (UK)/Blue Roan
Sire
Glowhill Apollo Severn (UK)/Blue Roan
Dam
Palacecraig Be Fair (UK)/Blue Roan
Dam
Sh.Ch.Lennoxgrove Rag Doll (UK)/Blue Roan
Sire
Shelohn Surely Great at Lennoxgrove (UK)/Blue Roan
Dam
Lennoxgrove Tamarisk (UK)/Blue Roan
Dam
Bitcon Summer Storm(UK)/Blue Roan
Sire
Shanaz Chancer (UK)/Blue Roan
Sire
Haradwaithe Specialist (UK)/Blue Roan
Dam
Pentlandview Sugar N' Spice from Shanaz (UK)/Blue Roan
Dam
Sh.Ch.Bitcon Westwind (UK)/Blue Roan
Sire
Sh.Ch.Bitcon Troubador (UK)/Blue Roan
Dam
Bitcon Moonlight Memories (UK)/Blue Roan
Dam
Ch.Haveago's Stardust Trilogy/Liver Roan
Sire
Am/Can Ch.Newstead Carnaby Acclaim,ECM/Blue Roan
Sire
Ch.Edgewood Vendetta,ECM/Blue Roan
Sire
Ch.Lynann's Sentinel/Blue Roan
Dam
Ch.Edgewood Unforgettable,ECM/Blue Roan
Dam
Ch.Bellflower Reflection,ECM/Blue Roan and Tan
Sire
Ch.Stardust Cimarron,ECM/Blue Roan
Dam
Ch.Bellflower Maybe Marvelous,ECM
Blue Roan & Tan
Dam
Haveago's Good Golly Miss Molly/Liver Roan
Sire
Am/Can Ch.Haveago's Merry Gentleman/Liver Roan
Sire
Am/Can Ch.Carnaby Corsair,ECM
Blue Roan
Dam
Am/Can Ch.Haveago's Ain't Mis' Behavin'
Blue Roan
Dam
Am/Can Ch.Haveago's Promise of Stardust/Liver Roan
Sire
Ch.Stardust Cimarron,ECM
Blue Roan
Dam
Ch.Stardust Amawalk Godiva,NA,NAJ/Liver Roan